Zolpidem has little effect of the muscle relaxant or anti-seizure but more of the sedative effect. Thus, it is a sedative-hypnotic (non-benzodiazepine ) used to treat insomnia. The tartrate salt of zolpidem is a white to off-white crystalline powder; slightly soluble in water, sparingly soluble in alcohol, propylene glycol, practically insoluble in methylene chloride.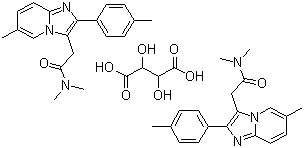 Chemical Name:
Zolpidem Tartrate
Description
(2R,3R)-2,3-dihydroxybutanedioic acid; N,N-dimethyl-2-[6-methyl-2-(4-methylphenyl)imidazo[1,2-a]pyridin-3-yl]acetamide
99294-93-6
C23H27N3O7
Myslee;ambien;ZOLPIDEM TARTRATE;ZOLPIDEM HEMITARTRATE;ZolMitriptan Tartrate;Zolpidem Tartrate Tablet;ZOLPIDEM TARTRATE EP C IV;,r*))-2,3-dihydroxybutanedioate(2:1);Zolpidem Tartrate CIV (200 mg) (COLD SHIPMENT REQUIRED);N,,6-Trimethyl-2-P-Tolyl-Imidazo(1,2-A)Pyridine-3-AcetamideL-
Zolpidem belongs to the group of medicines called central nervous system (CNS) depressants.