Triclosan is used in a variety of common household products, including soaps, mouthwashes, dish detergents, toothpastes, deodorants, and hand sanitizers. It is also used in health care settings in surgical scrubs and personnel hand washes.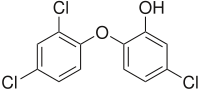 Chemical Name:
Triclosan
Description
5-chloro-2-(2,4-dichlorophenoxy)phenol
3380-34-5
C12H7CI3O2
ch3565;IRGASAN;TROX-100;TRICLOSAN;Cloxifenol;ZilesanUW.;TRICHLOSAN;Irgacare MP;irgasandp300;TRICLOSAN USP
Used as bacteriostat and preservative for cosmetic and detergent compositions. Antiseptic, disinfectant.