Tolterodine L-Tartrate is a muscarinic receptor antagonist that is active at all mAChR M subtypes. This compound blocks the opening of ion channels by acetylcholine, which in turn leads to muscle relaxation by blocking neuronal signaling.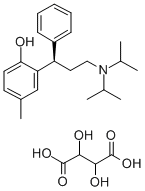 Chemical Name:
Tolterodine Tartrate
Description
(2R,3R)-2,3-dihydroxybutanedioic acid; 2-[(1S)-3-[di(propan-2-yl)amino]-1-phenylpropyl]-4-methylphenol
124937-52-6
C26H37NO7
DETROL;Detrol LA;DETRUSITOL;PNU-20058E;PNU-200583E;TOLERODINETARTRATE;Tolterodine(Detrol);TOLTERODINE TARTRATE;TOLTERODINE L-TARTRATE;Tolterodine Tartrate API
A muscarinic receptor antagonist. Used in the treatment of urinary incontinence.