Pregabalin is an anticonvulsant drug used for neuropathic pain, as an adjunct therapy for partial seizures, and in generalized anxiety disorder. It was designed as a more potent successor to gabapentin. Pregabalin is marketed by Pfizer under the trade name Lyrica. It is considered to have a dependence liability if misused, and is classified as a Schedule V drug in the U.S.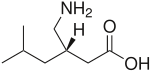 Chemical Name:
Pregabalin
Description
s(S)-3-(aminomethyl)-5-methylhexanoic acid
148553-50-8
C8H17NO2
Lyrica;Pregablin;PREGABALIN;(S)-Pregabalin;(R)-Pregabalin;xiangxizhiliao;LYRICA (pregabalin);3(S)-(AMINOMETHYL)-5;(S)-(+)-Pregabalin-d4;Pregabalin-13C3 RaceMic
Pregabalin is used for the management of neuropathic pain associated with diabetic peripheral neuropathy or spinal cord injury, and postherpetic neuralgia. It is also used as adjunctive therapy for adult patients with partial onset seizures and management of fibromyalgia.