Lumefantrine is an antimalarial agent used to treat acute uncomplicated malaria. It is administered in combination with artemether for improved efficacy. This combination therapy exerts its effects against the erythrocytic stages of Plasmodium spp. and may be used to treat infections caused by P. falciparum and unidentified Plasmodium species, including infections acquired in chloroquine-resistant areas.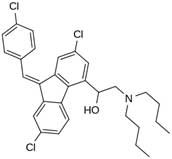 Chemical Name:
Lumefantrine
Description
2-(dibutylamino)-1-[(9Z)-2,7-dichloro-9-(4-chlorobenzylidene)-9H-fluoren-4-yl]ethanol
82186-77-4
C30H32CI3NO
(±)- 2,7- Dichloro- 9- ((Z)- p- chlorobenzylidene)- α- ((dibutylamino)methyl)fluorene- 4- methanol
A drug used in the treatment of malaria. Antimalarials are usually classified on the basis of their action against Plasmodia at different stages in their life cycle in the human.