Levetiracetam is an anticonvulsant medication used to treat epilepsy. Levetiracetam may selectively prevent hypersynchronization of epileptiform burst firing and propagation of seizure activity. Levetiracetam binds to the synaptic vesicle protein SV2A, which is thought to be involved in the regulation of vesicle exocytosis. Although the molecular significance of levetiracetam binding to synaptic vesicle protein SV2A is not understood, levetiracetam and related analogs showed a rank order of affinity for SV2A which correlated with the potency of their antiseizure activity in audiogenic seizure-prone mice.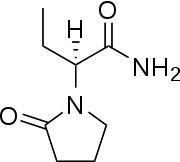 Chemical Name:
Levetiracetam
Description
(S)-2-(2-oxopyrrolidin-1-yl)butanamide
102767-28-2
C8H14N2O2
KEPPRA;LEVETIRACETAM;SIB-S1;(s)-2-(2-oxopyrrolidin-1-yl)butanamide;UCB-L059;(s)-1-pyrrolidineacetamid;(s)-alpha-ethyl-2-oxo-1-pyrrolidineacetamide;Levetiracetin(USP24)
Used as adjunctive therapy in the treatment of partial onset seizures in adults and children 4 years of age and older with epilepsy.