Lamotrigine is an anticonvulsant drug used in the treatment of epilepsy and bipolar disorder. For epilepsy it is used to treat partial seizures, primary and secondary tonic-clonic seizures, and seizures associated with Lennox-Gastaut syndrome. Lamotrigine also acts as a mood stabilizer. It is the first medication since lithium granted Food and Drug Administration (FDA) approval for the maintenance treatment of bipolar type I. Chemically unrelated to other anticonvulsants, lamotrigine has relatively few side-effects and does not require blood monitoring. The exact way lamotrigine works is unknown.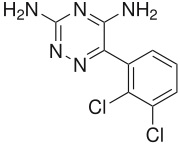 Chemical Name:
Lamotrigene
Description
6-(2,3-Dichlorophenyl)-1,2,4-triazine-3,5-diamine
84057-84-1
C9H7CI2N5
LTG;BW-430;BW-430C;LAMICTAL;LAMOTRIGIN;GI 267119X;Lemotrigine;LAMOTRIGINE;LAMOTRINGINE;LaMotrigine API
For the adjunctive treatment of partial seizures in epilepsy and generalized seizures of Lennox-Gastaut syndrome. Also for the maintenance treatment of bipolar I disorder and depression.