An anthelmintic used primarily as the citrate in the treatment of filariasis, particularly infestations with Wucheria bancrofti or Loa loa. This compound belongs to the piperazine carboxamides. These are heterocyclic compounds containing a piperazine ring substituted by one or more carboxamide group.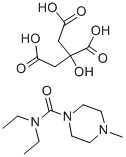 Chemical Name:
Diethylcarbamazine Citrate
Description
N,N-diethyl-4-methylpiperazine-1-carboxamide
1642-54-2
C16H29N3O8
loxuran;caritrol;filazine;franozan;hetrazan;Dirocide;Longicid;franocide;Ditrazine;NSC 80513
Used as an anthelmintic.