Budesonide is a glucocorticoid used in the management of asthma, the treatment of various skin disorders, and allergic rhinitis. [PubChem] The extended release oral tablet, marketed as Uceris, was FDA approved on January 14, 2013 for the management of ulcerative colitis. Budesonide is provided as a mixture of two epimers (22R and 22S). Interestingly, the 22R form is two times more active than the 22S epimer. The two forms do not interconvert.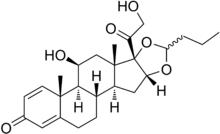 Chemical Name:
Budesonide
Description
16,17-(butylidenebis(oxy))-11,21-dihydroxy-, (11-β,16-α)-pregna-1,4-diene-3,20-dione
51333-22-3
C25H34O6
The oral capsule is used for the treatment of mild to moderate active Crohn's disease. The oral tablet is used for induction of remission in patients with active, mild to moderate ulcerative colitis. The oral inhalation formulation is used for the treatment of asthma, non-infectious rhinitis (including hay fever and other allergies), and for treatment and prevention of nasal polyposis.