Berberine Hydrochloride is an alkaloid derived from Chinese goldthread,bark of cork tree and other plants. It can be also synthesized in artificial method. It is used as raw material to make preparations, which are usually administered the treatment of intestinal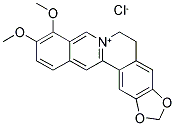 Chemical Name:
Berberine Hydrochloride
Description
9,10-Dimethoxy-5,6-dihydro[1,3]dioxolo[4,5-g]isoquinolino[3,2-a]isoquinolin-7-ium chloride
633-65-8
C20H18ClNO4
BBR;CI 75160;Kyoberin;NSC 646666;UMBELLATINE;BERBERIN HCL;BERBERINE HCL;NATURAL YELLOW 18;BERBERINE CHLORIDE;TIMTEC-BB SBB006488
An ingredient in some commercial eyewash products.